Fannie Mae Announces $2.0 Billion Secured Overnight Financing Rate (SOFR) Transaction, Encouraging Market Participation; Third SOFR Offering Grows Investor Base; Diversity-certified broker-dealers Mischler Financial Group and CastleOak Securities designated as selling group members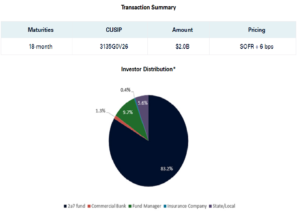 Washington DC–January 28, 2019–Today, Fannie Mae announced and priced its third Secured Overnight Financing Rate (SOFR) offering, an 18-month $2.0 billion issuance. Barclays Capital Inc., Citigroup Global Markets Inc., and Nomura Securities International, Inc. are the lead managers on this transaction. CastleOak Securities and Mischler Financial Group are selling group members.
"With our first SOFR security maturing at the end of this month, it was an opportunity to come to market. Among our three offerings, we are pleased that with each concurrent deal, we have seen increased demand. We continue to see new investors in our deals, as well as significant interest in the market from both the issuer and investor sides. These are great gauges of market progress," said Nadine Bates, Senior Vice President and Treasurer, Fannie Mae.
"This third offering, marking Fannie Mae's seventh SOFR security, increases the liquidity of the SOFR curve. The more maturity points there are, the better equipped the market will be to adopt the new rate," said Bates. "It is important to maintain momentum in the SOFR market, and Fannie Mae is proud to demonstrate a commitment to the Alternative Reference Rate Committee's (ARRC) efforts to develop LIBOR-alternatives."
Over $40 billion of SOFR-linked securities have been issued in the marketplace since Fannie Mae's inaugural offering last July.