Mischler Financial Group 2021 Memorial Day Month Pledge
Newport Beach, CA & Stamford, CT, May 7 2021-Consistent with Mischler Financial Group Inc.'s commitment to Giving Back by Paying Forward by sharing our firm's profits with carefully-vetted philanthropies during the months of May & November [in honor of Memorial Day and Veterans Day respectively], we are pleased to announce that the 2021 Mischler Memorial Day Month Pledge recipient is the Orange County Rescue Mission's Tustin Center Veterans Outpost.
Established in 2016, The Tustin Center Veterans Outpost  is 100% privately funded (with no government support) and operates a transitional housing complex that provides:
short-term housing for up to 70 military veterans and their families who might otherwise be homeless, and
Veteran-specific Services that include:

case management,
mental health services,
educational assistance,
food and nutrition assistance,
healthcare,
legal services,
job training and
employment placement.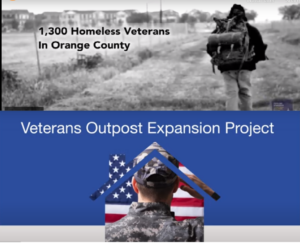 All of the services provided by the Veterans Outpost leverage the resources of the Orange County Rescue Mission, one of Southern California's most effective support organizations by providing assistance to upwards of 30,000 in-need individuals every year. The Veterans Outpost program is purposefully designed to guide, equip and empower homeless veterans so that they can heal from past trauma, rebuild their lives, and to once again become self-reliant, productive members of their families and their communities.
As noted by Mischler CEO, Dean Chamberlain, "Those of us directly familiar with the Veterans Outpost and who have served on site as volunteers are in awe of the work they do, and we are privileged to support their efforts." An inspiring view of the impact Tustin Center Veterans Outpost has on those it serves is courtesy of this video: Veterans Outpost Testimonials
Equally important, we are all greatly appreciative of Mischler clients and customers whose trust and support of our firm's capital markets team and our various trading desk(s) enables our mission to give back to veterans who have served and sacrificed for all Americans, yet now find themselves in need of our having to make small sacrifices in terms of time and resources in order to help them through very challenging times.
Clients/Customers who wish to donate directly are encouraged to do so; the organization deploys 86% of funds received directly to those in need, with 12% going to operating expenses.
About Mischler
Established in 1994, Mischler is the securities industry's oldest minority-certified broker-dealer owned and operated by Service-Disabled Veterans, a federally-certified Service-Disabled Veteran-Owned Small Business Enterprise (SDVOBE), and a certified Minority Business Enterprise (MBE). Mischler boot prints can be found across the primary debt and equities capital markets, where the firm serves as a pure complement to the role played by lead underwriters and works with a broad spectrum of corporate debt and equity issuers and municipal debt issuers. Mischler's holistic approach to institutional brokerage combines next-level technology with concierge-style, high-touch service to provide better execution for corporate treasury clients overseeing share repurchase and FX hedging strategies and for asset managers who oversee investment strategies across domestic and global equities, ETFs, fixed income, rates, and FX markets.
For additional information about Mischler, please visit www.mischlerfinancial.com
Contact:
Dean Chamberlain (SDV), CEO & Principal
203.276.6646
dchamberlain@mischlerfinancial.com